It is a wonderful experience on Asia's largest and first Quantum Ultra Class cruise ship – Spectrum of the Seas®. It was a blessing in disguise that our original cruise on Quantum of the Seas was cancelled last minute. There wasn't much queueing for shows/activities and we could only pre-book one show on the app upon boarding.
At first, we paid for unlimited dining package and wifi package. But decided against it for Spectrum of the Seas. It was a great decision to disconnect and focus on the experience onboard. Since the restaurants on the ship aren't remarkably outstanding, we decided to skip them as well.
Although we skipped paid activities/ experience such as Sky Pad and unlimited dining/beverage package, we had a great time nevertheless
In case you are wondering if it is worth paying for a private balcony.. it is! I wasn't too keen on it as I wouldn't spend much time in the room. But it's awesome to wake up to sunrise and look at the vast ocean. Also, you can dry your clothes easily on the chairs! These are inclusive
• Larger sitting area with sofa bed
• Two twin beds or One Royal King bed
• TV, Telephone and safe
• Private bathroom with shower, vanity area and hairdryer
• Daily housekeeping and turndown service
• Room service
There are interesting things such as robots crafting alcoholic creations at the Bionic Bar. I will definitely want to try the suite at their Suite Club the next time as I heard that their exclusive facilities and dining (Silver and Gold dining) are fantastic.
On the last day, we took a walk around the upper deck which has several spots to check out the beautiful sunset and walk around the adults-only Solarium which is really pretty.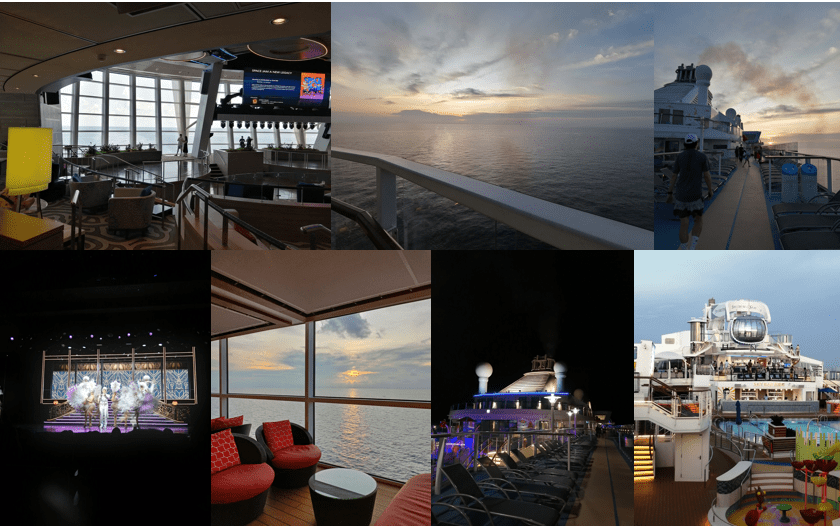 Food
We eat at the Two70® cafe or Main Dining Room (ala-carte buffet) mostly. The food at Windjammer (self service buffet) tastes average. I love the healthy selection at Two70® cafe so much. For their salad which is available for lunch, there's lettuce, roast beef, shredded chicken, papaya salad, avocado, cheese, pasta, chickpeas etc! For breakfast, there's bagel with smoked salmon etc. At the Main Dining Room, the food on the last day is outstanding. There's Western Cuisine as such appetizers, brisket, lamb, chicken and desserts etc.
The desserts from Main Dining Room and Windjammer are equally delicious. There's pies, cakes, bread and creamy custards.
We went for a paid hotpot buffet within Windjammer for a birthday celebration. Surprisingly, I enjoyed the hotpot so much as there's salmon, premium mushroom and non-meat selection, nourishing white fungus dessert and fruit platter! It was a good break from the Western cuisine.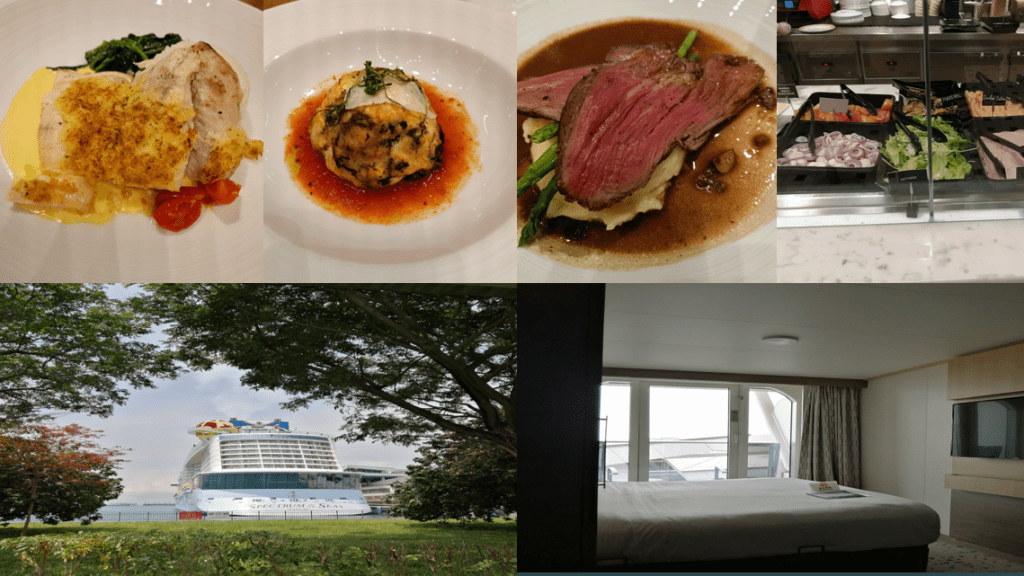 COMPLIMENTARY DINING OPTIONS
• Main Dining Room
• Windjammer Marketplace
• Noodle Bar
• Splashaway Café
• Sorrento's - Authentic New York Pizzeria
• The Café @Two70®
• SeaPlex Dog House
SPECIALTY DINING OPTIONS
• Chops GrilleSM
• Chef's Table
• Izumi
• Jamie's Italian by
Jamie Oliver
• Wonderland
• Sichuan Red®
• La Patisserie
• The Hot Pot
• Teppanyaki
• Vintages
• Leaf & Bean
Shows
We watched all the shows, and watched Showgirl twice. The circus act was the best, followed by Showgirl. the magic show was lacking in comparison. Be sure to listen to the live performances by Filipino Band as the lead singer is AMAZING. Our last day was special because of them!
Activities
It is recommended to try Rock climbing and Flow Rider on the first day upon early check in. We were lucky that the rain just stopped before we wanted to do both, so it isn't too sunny. The wait is around 15 minutes.
Bumper Car is really fun, but quite easy to get injured!
Tips
Check in early to do the activities such as Flow Rider and Rock Climbing!
Pay for the unlimited dining package early before boarding to save cost (Around $176 per pax)
Pay for the wifi package early
Bring your shampoo if you don't want to use their 2 in 1 toiletries
Kill time at the gym
The tele-ART experience via Minmed is a breeze and results are out within 30 minutes. Cost: $12 nett.
Download the Royal Carribean app to add activities/show to your calendar
For females, wear a swimming costume below your clothes when you take the flow rider. We saw shorts being swept away by the current.
Use sunscreen!
Thank you for reading! Please like my Facebook page to get the latest updates.